About the Furnace Mountain Band
"the area's premier acoustic band"
-The Washingtonian
The region is situated between the Appalachian hills of West Virginia and the culturally diverse and ever-changing Washington, D.C., metropolitan area, and is known for producing musicians who transcend generic categories, deftly taking traditional music styles in new directions. Furnace Mountain Band, named for a mountain near where all the members grew up, consists of some of the most innovative and gifted musicians in Virginia. 
Furnace Mountain consists of Aimee Curl on bass and vocals, , Dave Van Deventer on fiddle and vocals, and Morgan Morrison on guitar, bouzouki, and vocals, Danny Knicely on mandolin and fiddle.  The band creates music that is at times lively and raucous, with spirited fiddle melodies weaving in and around the powerful rhythms of the bass and bouzouki, and other times poignant and poetic, with sublime vocal harmonies beautifully interpreting some of the oldest songs ever written.
Furnace Mountain Band has performed throughout the world, from the Yangtze River in China to the banks of the Shenandoah River, where they are the host band of Watermelon Pickers' Festival. Furnace Mountain Band plays music from the American Appalachian traditions, as well as original compositions, and songs penned by their favorite song writing friends.
Aimee Curl
Singer/Bassist Aimee Curl, from Taylorstown, Virginia, has an unmistakable breathy sound and sultry style that combine in a musician of incredible depth. As a singer, she has a most distinctive voice with emotion and sincerity that makes even the most hardened listener soften and swoon. Aimee grew up singing in church and with her family. In her early teens, she learned the lap dulcimer and joined her first band. She met other musicians, started singing more, and began experimenting with other instruments such as guitar, fiddle, and bass. She left home and spent the next ten years playing the electric bass and touring the country with a band named ThaMuseMeant before studying at the New School of Jazz and Contemporary Music in NYC where she picked up the upright bass fiddle. Aimee returned to Virginia, and now performs with Furnace Mountain at many major festivals and venues in the U.S. and overseas.
Morgan Morrison
Morgan Morrison comes from a family of rich musical diversity and acclaim. Her Uncle was the late great John Carisi, whose Jazz composition "Isreal" was recorded by Miles Davis (birth of the cool), Bill Evans and, Gill Evans. Along with many other accomplishments he was also a member of Glen Millers orchestra, and worked with Benny Goodman. Morgan's father the late John Morrison, her uncle Peter,  grandmother Julie, and mother Holly, were at times all professional  musicians, and it was from here that she got her uncanny natural abilities in music. Morgan gained a passion for the old time music of Virginia in her teens, at the various music festivals across the state, but her musical interests span many genres. She  has been playing the guitar for 20 years, and the Bouzouki for 15, and singing her whole life.
David Van Deventer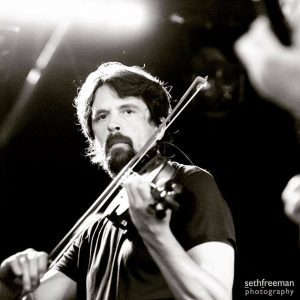 David Van Deventer (a.k.a. Fiddlin' Dave) has been studying the folk origins of the fiddle for over 30 years. David is Co-owner of Shepherds Ford Productions, the company that produces the annual Watermelon Park Fest  and River and Roots Festival at Watermelon Park Campground in Berryville Va. He is a fiddle and banjo instructor, as well as an active member of  the Woodshedders and David Via and Corn Tornado. Other notable artists he has played and recorded with are Keller Williams, Larry Keel, Cracker, and The Country Gentlemen, to name a few.  Mike Morrison AmericanaUk had this to say "Ramblin' Jack was composed and sung by David Van Deventer whose vocal, certainly to me, has the warmth and expression of the late John Hartford". Eilis Boland had this to say in a review for Lonesome Highway of Shadow of Plenty "David Van Deventer ain't called Fiddlin' Dave for nothing – he's a demon on his instrument! He also writes much of the music and sometimes the lyrics. His vocal style and indeed his playing is reminiscent of the late fiddle maestro John Hartford – particularly evident on his songs Ramblin' Jack and The Last Song. The ironically named Inchworm Set showcases the skills of the whole band, where Dave's fiddling interweaves with bouzouki (unusually) and mandolin, backed up by bass, and all at breakneck speed."

Danny Knicely
Danny Knicely can be seen with the four piece version of the Furnace Mountain Band . Danny is a fourth generation Appalachian multi-instrumentalist from a Virginia family steeped in mountain music tradition. He has won many awards for both his mandolin and guitar expertise, including first place in the mandolin contest of the Telluride Bluegrass Festival. He has years of experience as a professional musician performing in many bands of varying musical styles. He has recorded and toured nationally and internationally with many groups including the award winning Magraw Gap, David Via and Corn Tornado, James Leva and Purgatory Mountain, and is a musical director for the Mountain Music Project and Footworks Percussive Dance Ensemble, featuring Mark Schatz and Eileen Carson. Visit Danny's website.